All Persian Rugs Are Not Made Equal
Pictured below are two classic cool-toned Nain rugs imported in our latest shipment from Iran. Both pieces were beautifully handwoven in the traditional weaving houses of Nain, Iran.
Nain Fine 9la Persian Rug (Ref 11) 285x200cm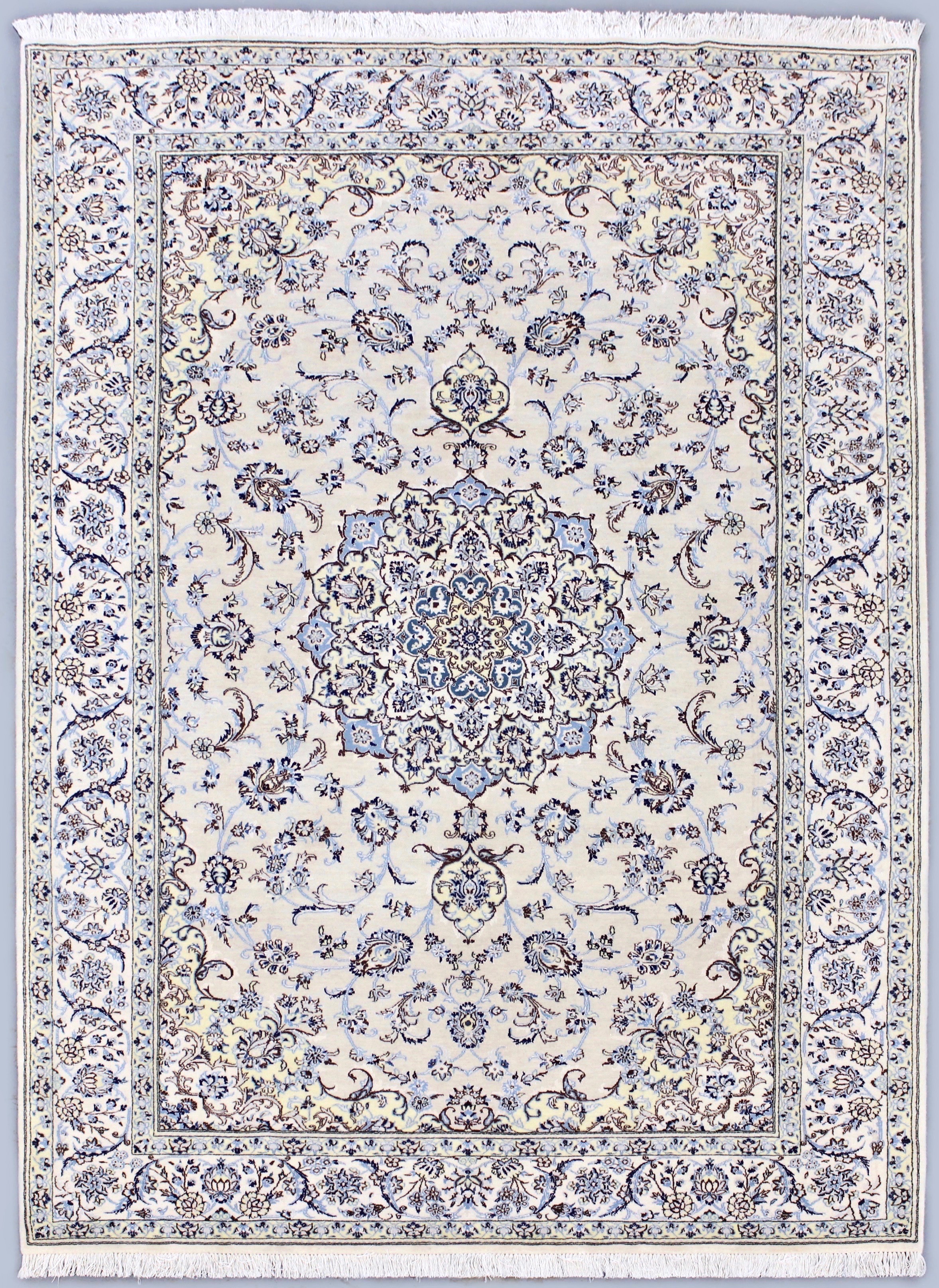 Nain Fine 6la Persian Rug (Ref 84) 310x205cm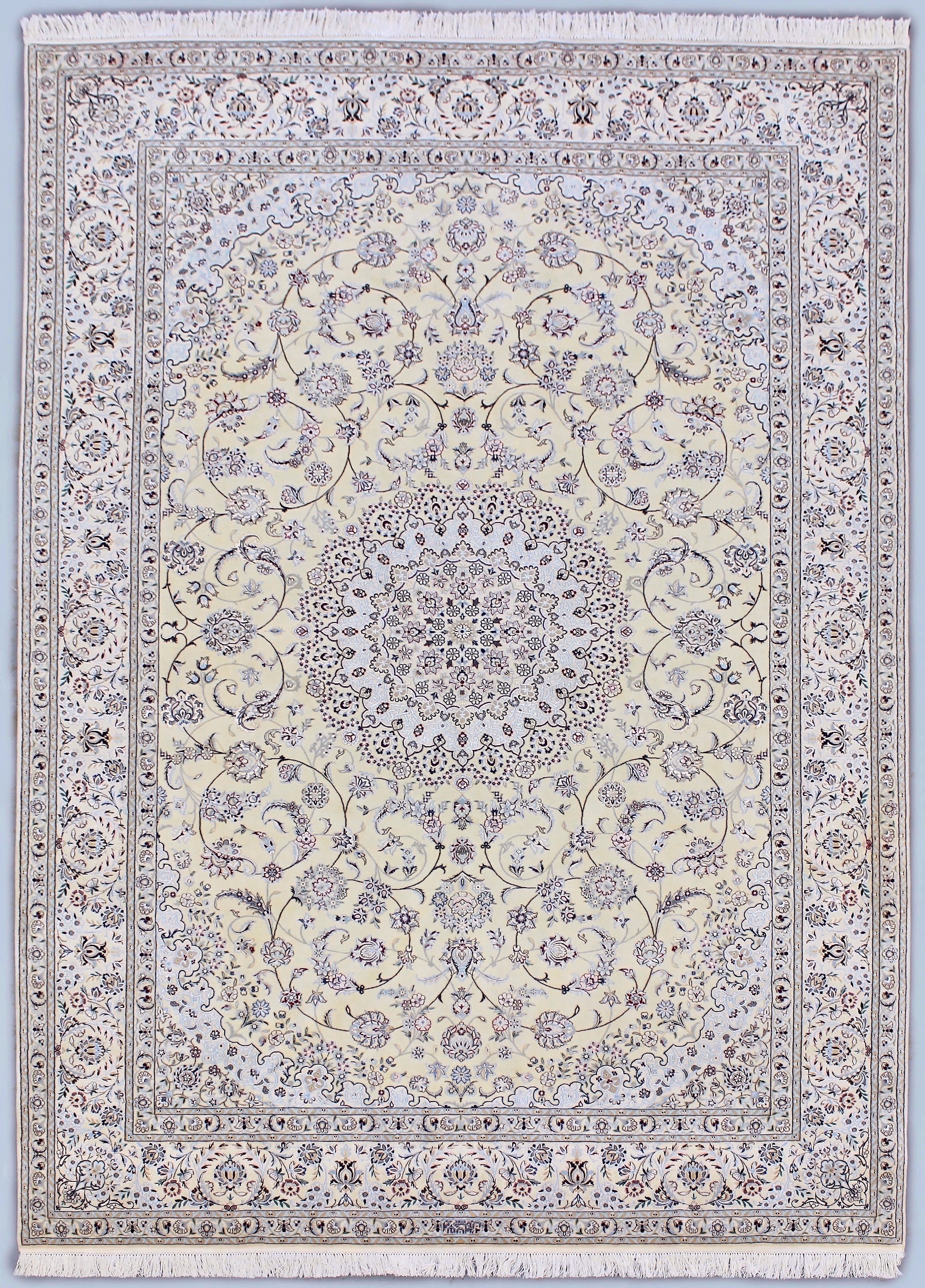 The similarities between these Nains do not stop here. They are just about the same standard 3x2m size, composed of a soft lambswool pile with a silk inlay, feature a Shah Abbas circular central medallion design and have a similar crisp colour palette.
We purchased both rugs well in the same consignment and as a result, have been competitively priced for sale. The first is available online for $5,449, the second for $10,949.
So why the significant price difference? There are many factors that will influence the value of a Persian rug. Below with the two Nains for reference, I have outlined the characteristics that we assess before we purchase our collections.
Fineness
All traditional Persian made rugs are of excellent quality. High knot-count (KPSI) is often used to grade a carpet of a specific type. It is important to note that fineness is not a characteristic that can be used to compare rugs of different types. For example, village rugs are generally rustic and not as refined as city pieces but can be better constructed and more valuable.
When comparing two rugs of the same type, woven in the same era, fineness is a parameter that matters. The finer Nain has taken more time to make, and the weaver is more skilled and experienced. The construction of a 6la Nain like Ref (84) is extremely labour intensive and will take a skilled weaver around two months per sqm.
Composition
The most common composition of Persian rugs is a locally sourced wool pile on a sturdy cotton foundation. Ref (11) and the majority of Nain rugs however, feature a wool pile composition with the inclusion of a minor silk inlay.
Ref (84) is more unusual. The pile composition is soft lambswool. The wool is is sourced from the underbelly of the lamb, making the fibres slight and beautifully soft to touch. Because of the high lanolin content, the wool has a stunning natural glow.
Availability
Nain rugs are amongst the most popular and produced handwoven Persian rugs. In bazaars across Iran, Nain rugs of various qualities and sizes are traded. The most available Nain rugs are of a medium fineness in a cool ivory and blue palette.
A grading system specific to Nains is used to categorise the finess. 'La' is the amount of threads for the yarn used in the construction. A super fine 4la Nain is composed of yarn that features only 4 intertwined threads meaning the rug is super fine.
Excellent examples of Nain rugs woven by revered weaving houses like Habibian are sought after on the international market and retain value over time. These pieces are difficult to source and sell quickly when priced competitively.
Beauty
The most important characteristic to consider in assessing the value of a rug is the beauty. I feel beauty is subjective but experienced valuers like our Director, Paul, have seen many rugs of specific types and develop refined tastes and a working knowledge. When selecting Nain rugs from overseas suppliers, our team looks for well-balanced colour palettes, attractive designs and lustrous wool piles.
---
Every customer has different tastes, and there is no guarantee that a more refined rug will look better in the typical Australian home. When purchasing a Persian rug, we recommend making informed decisions and spending time finding the perfect rug. Consider the the decor of the room and the way you interact with the space.
If you have found a rug and would like some help assessing features and qualities, please don't hesitate to email images to info@persianrugs.com.au and our team will get back with our opinion.